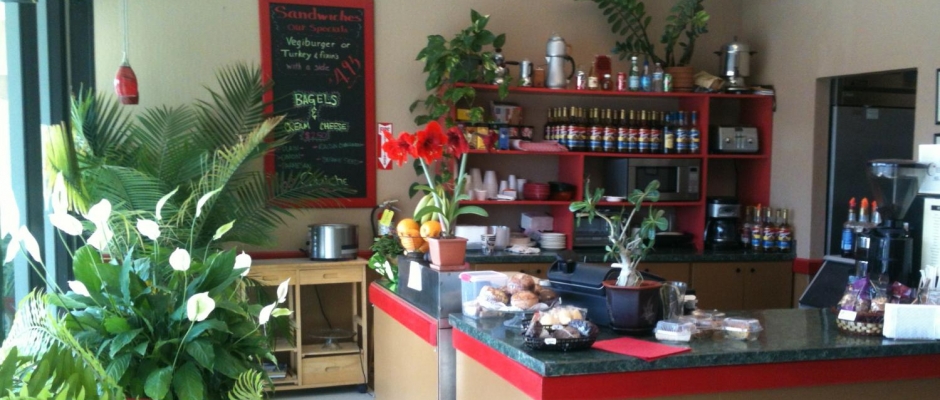 Menu
Cafe` Aroma

Ph#209-824-9978

Breakfast Sandwich--Croissant or Bagel with a Poached Egg, Lettuce Tomato, Basil Pesto, Choice of Cheese, Choice of Ham, Bacon or Turkey, Served with fresh fruit.

Muffins--Assorted daily flavors warmed on request, buttered and warmed if you like.

Bagel or Croissant With Cream Cheese or Butter — Toasted with soft Cream Cheese and served with fresh fruit.

Fresh Garden Salads—Chose from any of our sandwich ingredients and we will turn it into a fresh salad for you.

Also Our Fruit or Home Made Macaroni salads

Soup of the day--Fresh and Homemade

Sandwiches- All Sandwiches come with Fresh Fruit and a choice of Sides.

Turkey-Bacon Club—our Classic Club with Toasted Whole Wheat Bread, Turkey and Bacon, Provolone Cheese, Lettuce, Tomato, Red Onions, our house Pickled Cucumbers and Basil Pesto $7.25

Thanksgiving-Day Sandwich—Whole Wheat Bread, sliced Turkey, Cream Cheese, Cranberry Sauce, Red Leaf Lettuce, and Chopped Walnuts.

Turkey, Ham, or Chicken Sandwich--Made however you like with your choice of: Meat and Cheese- Provolone, Cheddar, Swiss, or American, Red leaf lettuce, Red onions our own Pickled Cucumbers, Mayo, Basil Pesto, And made on your choice of, Sliced Bread, Buttermilk, Whole Wheat or a Bagel, or Croissant.

Italian Torta Pannini—Salami, Ham, provalone Cheese, Melted with Red Onions, Pepperoncini Peppers, Black Olives and Basil Pesto, Grilled on a Torta Roll.

Herbed Chicken Breast Pannini Grilled-With Provolone Cheese and Sundried Tomato Pesto.

Hot Torta Supreme -Choice of Turkey, Ham or Chicken- Pannini Pressed and grilled, with Fresh Tomato, Red Onion, Bacon, Cheese and Basil Pesto.

Grilled Ham and Cheese Croissant- Ham or Turkey and Cheese ,Basil pesto,Pannini pressed and Grilled

B.L.T – Smoked Bacon, Red Ripe Tomatoes, and Crisp Red Leaf Lettuce, Basil Pesto

Grilled Turky Melt – Served on Sourdough Bread with Swiss Sheese, Caramelized Onions and Russian Dressing.

Vegi Burger—Our House Made Patty-Served on a Torta Roll Toasted, with Fresh Tomato Red Leaf Lettuce, Red onion, our own Pickled Cucumbers, Mayo, Basil Pesto, and choice of cheese. And add Caramelized Onions if you like.

Chicken Salad Sandwich--Lettuce, Tomatos, Havarti Cheese, Dried Cranberies and Sliced Almonds , Served on a Toasted Croissant.

Kids menu
Grilled Cheese or Peanut Butter and Jelly or Turkey and Cheese--Sandwich.

Coffee & Espresso
Latte's
Mocha's
Teas
Beverages
Flavored Sprite

Root Beer

Orange

Add Boba To Any Drink,

Blended, or Iced

Smoothies-Bended

Real Fruit and Yogurt Smoothies.

Choice of two Real Fruits.

24 oz

Add, Chia Seeds, or Green Tea